Published:
October 6, 2017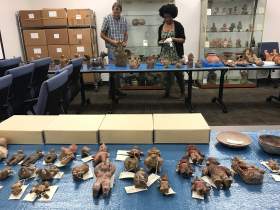 The 2016-2017 academic year was filled with activity around the Department's Art and Art History Collection, managed by The Mesoamerica Center. Comprised of several thousand objects, including ceramics and textiles from the indigenous Americas, the collection had received some attention early in 2016 as the result of a new publication by UT Press on the hidden collections that exist across UT Austin. To make the collection more visible and accessible to students and to the general public, Astrid Runggaldier curated a new gallery with the Blanton Museum's Rosario Granados, the Carl and Marilynn Thoma Associate Curator of Spanish Colonial Art. The new space – the Ancient Americas gallery – opened as part of the Blanton Museum's permanent collection reinstallation this past February, and features several objects from across Mesoamerica, highlighting the cultural diversity of the region.
Masters student Kendyll Gross participated in every aspect of the curation process, and is now working on her own thesis research with the collection, focusing on the West Mexican ceramics that will become the basis for the next installation at the museum.
The Blanton Museum now also features a gallery of Native American art, with textiles from the US Southwest loaned by the Art and Art History Collection.