Published:
September 1, 2017
The Mesoamerica Center is proud to announce that Astrid Runggaldier has become Assistant Director as of June 1, 2016.
Dr. Runggaldier, who has been with the center since 2012, oversees the educational, scholarly, and public activities of the Mesoamerica Center and Casa Herrera in Antigua, Guatemala, including the Mesoamerica (formerly Maya) Meetings, lecture series and conferences, study abroad programs, and the management of the Art and Art History Collection of Pre-Columbian art and artifacts.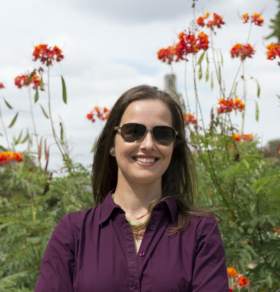 Runggaldier says she is "honored to be a part of a long-standing hub for research on Mesoamerica."
On her new role, and her aspirations within it, she says, "the more I learn about The Mesoamerica Center, the more I find that we have great collections and archival materials from the last several decades that other scholars and the public would enjoy learning about, and I look forward to embarking on projects that make our resources increasingly more accessible."
The Mesoamericanist brings with her a host of related experience in teaching, fieldwork, and study abroad program leadership, and has served in administrative or teaching capacities at Boston University, the University of Illinois at Urbana-Champaign, Skidmore College, and UT Austin.
Astrid earned her doctorate in archaeology from Boston University. She is particularly interested in "Maya culture and anthropological approaches to architecture, households, and built environments in the context of the ancient civilizations of the Americas."
In addition to her assistant directorship, Dr. Runggaldier is a senior lecturer and faculty leader of international programming for UT Austin's Department of Art and Art History.