Published:
September 8, 2017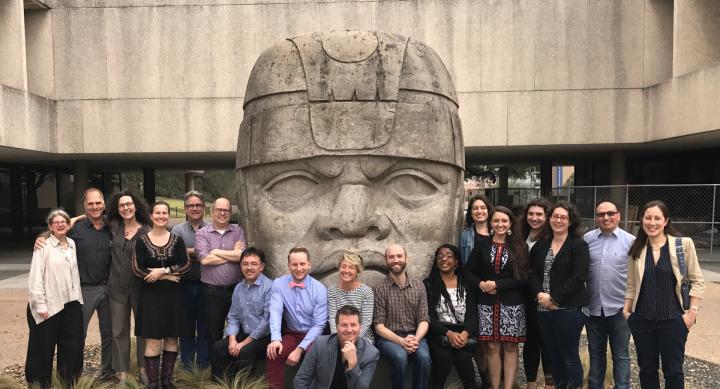 In February 2017, The Mesoamerica Center hosted another edition of the D.J. Sibley Family Conference on World Traditions of Culture and Art, which began in 1986 through a generous endowment from the Sibley family. These recurring symposia are scholarly gatherings limited to selected individuals invited to share perspectives and ideas around a proposed theme.
The 2017 Sibley Conference, entitled "Scaling Up and Scaling Down: Dialogues among Miniatures, Monuments, and 'Life-size'," was organized by Dr. Julia Guernsey from UT Austin's Department of Art and Art History, and Dr. Cathy Costin from the Department of Anthropology at California State University, Northridge. The topic of discussion over the two days of the gathering focused on scale in the material culture of the Precolumbian world, approached through various perspectives in anthropology, archaeology, and art history, with the participation of ten scholars specializing in ancient Mesoamerican and South American cultures.
Participants inspired group discussion with the following presentations:
"Miniature Shrines: Thoughts on the Early Classic Temple Censers from Escuintla, Guatemala"

Oswaldo Chinchilla, Yale University
"Scale and Audience in Formative Peru"James Doyle, The Metropolitan Museum of Art, "Gold in Lower Central America"

Cathy Costin, California State University
"Figurines, Scale, Status, and Production Techniques in Preclassic Mesoamerica"

Julia Guernsey, The University of Texas at Austin and Michael Love, California State University, Northridge
"The Weight of Ritual: Maya Jade Head Pendants and Embodiments of the Maize God"

Christina Halperin, University of Montreal
"In Search of Enlarged Scale: The Grammar of Inca Scaled Expressions"

Andrew Hamilton, Princeton University
"Scalar Relations among Monoliths and Geopolitical Relations among Sites in the Prehispanic Lake Titicaca Basin"

John Janusek, Vanderbilt University
"Teotihuacan Urbanism"

Matthew Robb, The Fowler Museum at UCLA
"Altar, Stage, and Platform: An Examination of Scale and Function in Ancient Mesoamerican Representations of Solar Cosmology"

David Stuart, The University of Texas at Austin
"The Scale of Ancient Andean Mural Studies"

Lisa Trever, University of California Berkeley
"Key Words for the Ceramics of Northern Peru: minimized architecture; portability; permanence; vocality; animism; surrogate"

Juliet Wiersema, The University of Texas at San Antonio
**In the photo above, from left to right: Cathy Costin, Michael Love, Julia Guernsey, Astrid Runggaldier, David Stuart, Matthew Robb, Oswaldo Chinchilla, Andrew Hamilton, Juliet Wiersema, John Janusek, James Doyle, Kendyll Gross, Elliot Lopez-Finn, Stephanie Strauss, Catherine Popovici, Lisa Trever, Edwin Roman, and Christina Halperin, in front of the UT replica of the colossal Olmec head of El Rey from San Lorenzo.