Published:
October 10, 2017
Casa Herrera, an extension of The Mesoamerica Center located in the UNESCO World Heritage city of Antigua, Guatemala, has had a busy year, hosting a number of public talks, a successful scholar-in-residence program, and several study abroad programs. As always, we are very grateful to Milady Casco, our on-site coordinator, who manages to balance multiple concurrent events at the Casa, especially during the summer.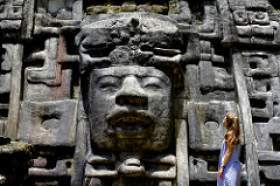 In 2017, Casa Herrera hosted a group of graduate students and one undergraduate in art education for the Holy Week Alfombras Program, led by the UT faculty of Visual Art Studies, Christina Bain, Heidi Powell, and Paul Bolin. The group produced a fantastic blog, capturing Guatemala in a series of alphabetically-themed entries. In it, they narrate their experience creating a colorful sawdust carpet for the processions that are part of Semana Santa (Holy Week) traditions in Antigua.
Casa Herrera also hosted two programs that will now be included in its regular summer offerings: the "Culture, Diversity, and Education" program, and the Mayan Language Institute. The first is a UT College of Education study abroad opportunity that focuses on the social context of education and language, giving students an opportunity to spend time in local schools. The Mayan Language Institute focuses on indigenous languages, particularly K'iché and Kaqchikel. The program is coordinated by Tulane University in partnership with UT Austin's Mesoamerica Center and the Lozano Long Institute of Latin American Studies, Vanderbilt University, The University of New Mexico, and The University of Chicago.
Lastly, we are particularly thrilled to announce that the UT International Office's Guatemala & Belize Maymester program, which had been in the works for several years, had a very successful first session in the spring. Students began their journey in Antigua and traveled from the highlands to the tropical forest, and all the way through Belize to the Caribbean Sea, learning and visiting cultural sites as they went. The program, titled "Bridging Cultures in Latin America: Maya and Colonial Heritage in Guatemala and Belize," is taught by Astrid Runggaldier and David Stuart. The 2017 program brought together students from a wide range of disciplines across the university. Their experiences, adventures, and discoveries are chronicled in the UT Maymester Blog.
We're looking forward to our 2018 Maymester program. Please click here to learn about our upcoming information sessions!