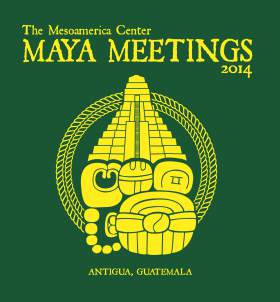 The 2014 Maya Meetings Symposium
Tikal and Its Neighbors
January 10-11, 2014
For the first time in over a decade 2014 Maya Meetings will focus on the archaeology and history of Tikal, Guatemala – long renowned as one of the great kingdoms of ancient Maya civilization. The conference and workshops will feature new research on various fronts, revealing changes in our conception of Tikal as a city, as a court, and as a community. Presentations by noted and upcoming scholars will highlight the ways archaeology and epigraphy are reevaluating Tikal's key role in the political and cultural history of the central lowlands. The meetings will also look at the history of research at Tikal, and the remarkable legacy of early excavations on the present-day methods and science of Maya archaeology.
Download The 2014 Maya Meetings Program (pdf | bytes)
Download Adobe Acrobat to access the pdfs on this page.
The 2014 Maya Meetings is pleased to collaborate with El Centro de Formación de la Cooperación Española en la Antigua Guatemala (CFCE Antigua). The Maya Meetings Symposium takes place inside the beautiful colonial building of Cooperación Española.
Simultaneous translation (English to Spanish and Spanish to English) will be provided during the Symposium. Questions about the event should be directed to Paola Bueché (p.bueche@austin.utexas.edu).
Download Adobe Acrobat to access the pdfs on this page.