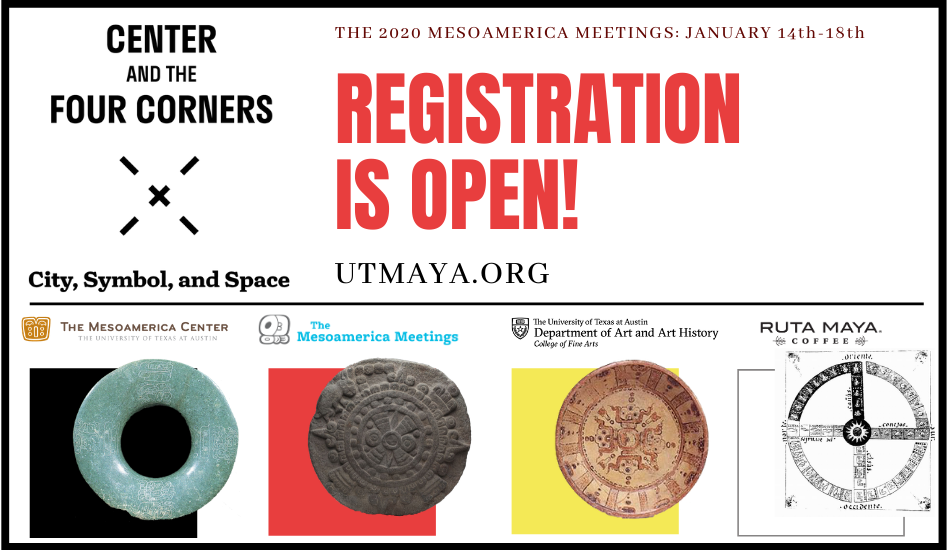 Registration is Now Closed
We have three days of workshops (Tuesday-Thursday), two days of Symposium (Friday and Saturday), and evening events on Thursday and Saturday! Please read this page for details before you proceed to register for The 2020 Mesoamerica Meetings.
Registration categories and fees: The registration fees vary by registration category. In addition to registration for our Regular Attendees, we have discounts for students of other schools and universities; for students, faculty, and staff at UT Austin; and for residents of Latin American traveling to join us in Austin! Please note before you begin registration that for UT Austin affiliates with current UT EIDs and for residents of Latin American countries, the registration system will ask you to upload a document as proof of your selected registration status before you can proceed. Have an image of your ID or a document with your address ready before you begin.
Foreign credit cards: We can process credit cards for billing addresses in the US as well as in foreign countries.
Early Bird Discounts: A discounted Early Bird Price is available to all catergories of attendees who register on or before Wednesday, December 4th, 2019. Discounted prices are $10 off for each workshop and for the Symposium. Don't miss this great offer!
Boxed Lunches: You have the option to pre-order a boxed lunch for the Symposium while completing the online registration process. Spend your Symposium lunch break with colleagues and friends, leave the car parked, and don't worry about finding a café within walking distance and returning in time for the afternoon talks! You can opt to purchase a lunch (either meat or vegetarian) for Friday and Saturday, and enjoy the convenience of a picnic box with a delicious main course, fresh mixed berries, cookie, and water bottle or soda. Sandwiches additionally come with a side of pasta salad, and salads with a mini-baguette. Your pre-orders will be available for pick up on the day of the event; please note that we will not have any additional lunches to sell beyond the ones pre-ordered through the registration site. Pre-orders for boxed lunches close on January 5th. 
Other Optional Items (Conference Merchandise): We also have several other optional items available for pre-order at the registration site, so you can continue to build your personal collection of mementos from The Mesoamerica Meetings. Check-out our selection of items for 2020 at the Conference Merchandise page.
Ready to register? Just follow the instructions at this registration website link or cut-and-paste the following url into your browser: 
https://www.cvent.com/events/the-2020-mesoamerica-meetings/event-summary-5a560411aaf245fdaed08c9b5081febe.aspx
You can start your registration to see how the process works, and return to finish it later. You can see a list the available options at the Agenda page, and a list of registration costs at the Fees page. If you have any trouble, feel free to Contact Us!
We look forward to meeting you, or seeing you again, in January at The 2020 Mesoamerica Meetings at The University of Texas at Austin!